See what the Media is saying
We would like to thank everyone who has posted, and shared our website. Its because of you, this is turning out to be a great teaching experience for my daughter. We are truly Thankful and Greatful for everyone for taking the time to share our link and especially the wonderful comments.
photo and story By Jenny Golfin, Register Citizen
Zoe shares how she tastes cupcakes
Zoe was a guest judge at this Pie Eating contest put on by First Act Bakery in Torrington, CT
7-19-2014 - Wtnh, Channcel 8, Connecticut
Thank you to reporter Destiny Lopez of the Replublican American for creating such a fantastic article. What some people wouldn't know from the article is that Destiny was an intern for REP-AM, I bet you couldn't tell.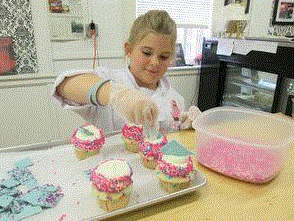 Connecticut girl tours the state for unique cupake
See What Bakeries are saying